Beschreibung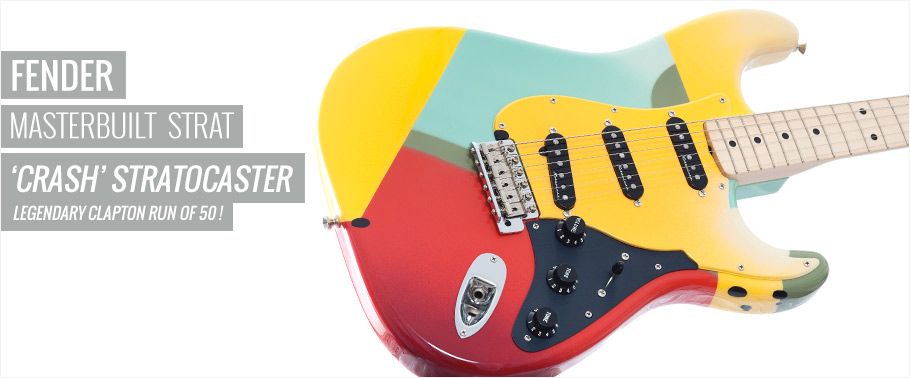 Fender Custom Shop John "Crash Matos" Clapton Crashocaster / Stratocaster Masterbuilt Todd Krause – Collector's Condition!

Yesss! It's one of THE 50 legendary "Crashocasters"! Just how often do you find this?

We're very happy to offer such a legendary guitar. Think about it as a work of art. Are you a fan of 80's Street Art and Neoexpressionism? Fan of Clapton? Both things?

The legendary street artist John "Crash" Matos' work has been greatly admired in the graffiti world, and influenced many other artists. Eric Clapton was a big fan of his work, and between 2000 and 2004 got three painted for him by Crash. The Crashocaster was born. The third one (Crash-3) was sold at a Christies auction in 2004 for over $300,000.

Soon after that, Fender commissioned Crash a run of 50 one-offs, which took him nearly three years to complete. Each one depended entirely on his mood and inspiration at that moment, leaving behind a beautiful assortment of beauty and color, and some serious examples of graffiti street art and easily recognizable Crash artwork.

This one is certainly among the most beautiful ones from the run. You can click on the link below to download a .zip file with all the 50 Crashocasters. Judge for yourself.

http://guitargiraffe.com/imagenes_clientes/crashocasters.zip

This is a unique chance for the collector to get his hands on a serious investment that will certainly rise in value with time, but a true work of art. It does sound beautiful (Masterbuilt by Todd Krause), but it is what it is: a work of art. I don't think you will see another one pop up for a long, long time, especially one of the nicest ones from the run (if not THE nicest).

It is in collector's grade with the COA and the original Fender shipping box.

Model: Custom Crash Stratocaster
Part Number: 010-4406-(850)
Body: Alder (1960-style routing)
Neck: Straight-Grain Maple Neck (Custom "V" Shape)
Machine Heads: Vintage Style
Fretboard: Maple, 9.5" Radius
Frets: 21 Vintage Frets
Pickups: 3 Ceramic Noiseless Pickups w/Passive Circuit and Black Pickup Covers
Controls: Master Volume, Tone (Neck), Tone (Mid); Black Knobs and Switch Tip; Custom Black Anodized Control Plate
Bridge: Vintage Tremolo, Black Anodized Tremolo Cover
Pickup Switch: 5-Position Blade
Scale Length: 25.5" (648 mm)
Neck Width at Nut: 1.650" (42 mm)
Hardware: Chrome; Special Engraved Neckplate (CRASH's engraved signature)
Colors: Custom Paint Job by John "Crash" Matos
PickGuard: 3-Ply Pickguard Custom Painted by John "Crash" Matos
Please note: many users have contacted us asking if the photos we display in this listing are of the actual item or not.
We can confirm these are pictures of the ACTUAL ITEM for sale.
| | |
| --- | --- |
| • | About the item – This guitar is pre-owned. All our items are in amazing condition (actually, even Fender dealers think they're new whenever they come visit the store personally). It has been checked, setup and is 100% original (any changes from original specifications will be detailed in the listing). No repairs, neck, trussrod or any other kind of functional issues. If you have any doubts, please ask us for a live description of the item. |
| • | Warranty – All our pre-owned gear include a one-year warranty for guitars and a 3-month warranty for amplifiers. It covers the same issues the original manufacturer's does (except vacuum tubes for amplifiers). |
| • | 7-Day-Money-Back Guarantee – The client has 7 days upon receipt to return the pre-owned article. It must be perfectly packed and in identical conditions to when it was purchased. The client will be responsible for all shipping costs and third-party payment fees (Paypal, Visa, Mastercard). |
| • | Payments – All payments must be received within 48 hours of auction end. You may pay with PayPal (PayPal Account, Visa o Mastercard). |
Shipping costs vary depending on destination. International customers are very welcome. Please contact us if you want to confirm shipping costs and avaliability to your country.

We ship via private courier (Correos Express, Spain's main private shipping agency, an official partner of Spain's Post Mail Service). All our shipments include a tracking number. Shippings within the EU takes around 3-7 business days, but please allow up to 28 days for delivery in case of postal delays (this is very rare).

Prices for different countries are listed below. If you don't see your country, please contact us. Canarias, Ceuta, Melilla and Baleares, please contact us as well.

Please keep in mind that all customs taxes applied by the country of destination are the buyer's entire responsibility. We will not be held responsible for these taxes, so please ask your Customs Office for any possible charges.

Shipping Fees

Spain (Península)

28€

France

35€

Deutschland

45€

United Kingdom

45€

Rest of European Union

56€

Rest of Europe

75€
| | | | | | | | | |
| --- | --- | --- | --- | --- | --- | --- | --- | --- |
| | | | | | | | | |
| | Paypal Verified | | Visa | | Mastercard | | Local Pick-up | |
| | | | | |
| --- | --- | --- | --- | --- |
| | | | | |
| Gibson Les Paul Standard – Desert Burst ('08) | | Fender American Deluxe Strat – Sunset Met. ('09) | | Fender Stevie Ray Vaughan SRV Stratocaster |
| | | | | |
| Gretsch pre-Fender Country Classic II G6122 | | Fender '65 Deluxe Reverb | | Rickenbacker 360/6 MapleGlo ('00) |
Guitar Giraffe is Spain's first physical and online pre-owned guitar and amp store.

You may find it hard to believe, but that's a fact! We are a real store (with our own physical place and websitel, of course!), and also sell through eBay.

Why aren't we Powersellers or have huge feedback? The answer is simple: we've just begun our activity as eBay sellers. In fact, our physical store opened very recently, so we need your help to raise feedback, our intention is to keep it at 100% by satisfying all our customers! Please look us up to confirm that we are a solid, serious business. Feel free to drop by our store or send us any questions you might have. Bid with confidence.

We are family business, and we do what we do because we like it. We really do. We've turned our small store into a nice little place where to try out guitars and chat. Come visit!
According to eBay policies, you may phone us for an in-depth description or further information on the item (Spanish number, but we speak fluent English) at +34 985 252 955 or +34 608 849 336. If there's any problem with Paypal, please let us know so we can work out any other possible payment methods. Cash on collection is accepted.

Happy bidding!